Three Terrific Ways to Use Security Cameras for Convenience
You just fell into bed after a long day and everyone in the house is snug as a bug in a rug. You're nodding off, almost asleep, when you hear it: a distant crash from your front porch.
What was that?  Is it a prowler? A raccoon? Just the wind?
Good news!  With video cameras and smart home security, you don't even have to get out of bed to investigate. Your convenient smartphone app (powered by Alarm.com) can show you exactly what's going on outside.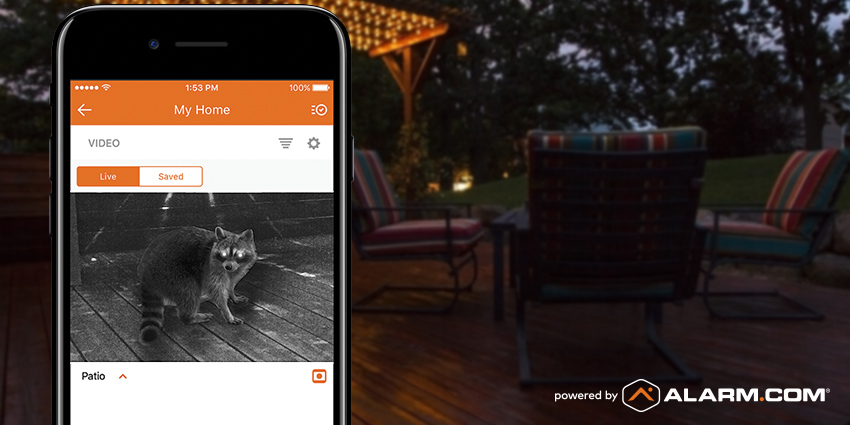 "What's that noise on the front porch?"
Is it a raccoon or something else making that noise on your porch? With a doorbell video camera, you can see right away.  This popular camera detects motion, captures clips, and sends video alerts to your phone.  It's also two-way voice!
Even better, you can view live video feed from your doorbell in your app.
"Are the kids okay in the back yard?"
Your baby needs to go down for a nap, but the older kids want to stay outside and play. Or maybe the dog isn't ready to come in, but you have things to do inside.
With smart video camera monitoring, it is easy to keep an eye on kids and pets. Live video streaming can show you exactly what they're up to. Making dinner?  You can even stream the video to your kitchen TV.
"Is the pool area secure?"
Your backyard swimming pool is a dream come true, but it requires extra vigilance to keep your family, guests and neighbors safe.
Smart home security can help with a combination of security cameras and a contact sensor on your pool gate. Should some curious children wander into the pool area, you'll be notified on your phone with both a sensor alert and a video clip.